This month as the world celebrates the wonder of us I wanted to pop into your inbox to talk about our magic. The power and influence of women are amplified when we work together and feed off each other's energy. We are strongest when we find our tribe.
But what do I mean by tribe? A common mistake is to assume that our female friends are our tribe. And while they can sometimes be, that's often not the case. Your tribe is that circle of women who elevate, support and challenge you. There is oftentimes a common element that binds you together – whether motherhood, career aspirations, entrepreneurship, or some other common ground.
The first time I identified the importance of a tribe was when I arrived in the UK to study back in the day, away from family and friends. At the time I knew no one and I had to find a tribe if I wanted to find my footing and not just survive, but also enjoy the experience.
The tribe I found later turned out to be my saving grace while I was in the UK.  Those women nurtured and supported me in numerous ways.
When my sister passed away on Christmas eve, those women rallied around me and made sure I still celebrated Christmas, despite how far away from home I was. They were there for me in the absence of my family. And when one of us became ill and was hospitalized we were there for her too.
We were all there in the UK studying away from our families and friends and we forged a bond based on that connection.
And really, that's the beauty and essence of a tribe – having that unrelenting support system that protects you from isolation and helps you through many of the challenges that life throws at you. With a tribe of truly supportive women, you're never really alone. Isolation, anxiety, feelings of inadequacy or self-doubt…whatever you're grappling with your tribe will show up to support you.
Now if you're like many of the women I work with you're probably wondering…how do I find this tribe?
One of the things I hear women complain about is that it can be difficult to find this kind of network. For many of us, our friends and family don't understand many of our struggles. And that's why we need a tribe. Of course, finding a tribe that meets your needs can be painfully difficult, which forces many of us to suffer alone in silence and take the painful solo route. I can't tell you how many times I hear women declaring, sometimes with pride, that they don't have female friends…and it breaks my heart.
Finding your tribe (or tribes – you can definitely have more than one) may be easier than you think. In fact, my number one tip for finding your tribe is to get clear on what you want, what your needs are (notice how everything comes back to this one basic principle!?).
Once you're able to do that it will be easier to find the right people who can meet those needs. Of course, it will require putting yourself out there and expanding your horizon. Which can feel scary? But I promise it's totally worth it! Here are some tips to consider?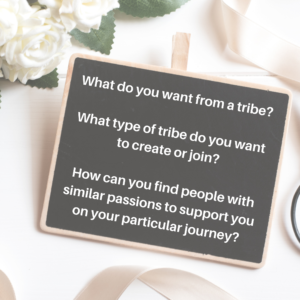 Good luck finding your tribe. Because there's nothing quite like the magic of finding your tribe and thriving under their accountability, love, and support.